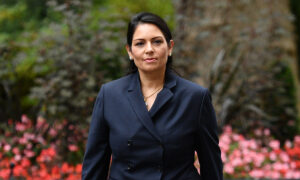 Britain will carry out "the most significant overhaul" of its asylum system in decades to address the challenge of illegal immigration, UK Home Secretary Priti Patel said on Wednesday.
The government's New Plan for Immigration, described by Patel as "fair but firm," will make it more difficult for migrants entering the UK illegally to stay in the country.
Our New Plan for Immigration will create a faster and fairer system that supports the most vulnerable in genuine need. pic.twitter.com/zdGF9rP7qi

— Priti Patel (@pritipatel) March 24, 2021
"Because while people are dying, we have a responsibility to act," Patel told the House of Commons.
"People are dying—at sea, in lorries, and in shipping containers—having put their lives in the hands of criminal gangs that facilitate illegal journeys to the UK. To stop the deaths, we must stop the trade in people that causes them."
"For the first time, whether people enter the UK legally or illegally will have an impact on how their asylum claim progresses," said Patel.
The government will "make every effort to remove those who enter the UK illegally having travelled through a safe country first in which they could and should have claimed asylum," she said.
People smugglers will face harsher sentences and can now be jailed for life, she said.
Patel stressed that Britain has always celebrated "those who have come to the UK lawfully and helped build Britain."
Since 2015, the UK has resettled nearly 25,000 refugees and welcomed over 29,000 close relatives through refugee family reunion, according to the Home Office.
Britain also created a pathway to citizenship for millions of British National (Overseas) status holders after Beijing imposed a draconian national security law on Hong Kong.
"Nobody can say that the British public are not fair or generous when it comes to helping those in need," said Patel.
"But the British public also recognise that for too long parts of the immigration system have been open to abuse."
"Access to the UK's asylum system should be based on need, not the ability to pay people smugglers," she said.
Patel said Britain's immigration system is "collapsing under the pressure of parallel illegal routes to asylum, facilitated by criminal smugglers."
She said these illegal routes are "deeply unfair," as they advance those with the means to pay smugglers over those in desperate need.
"And it is not fair to the British people either, whose taxes pay for vital public services and an asylum system which has skyrocketed in cost—now costing over £1 billion ($1.37 billion) this year."
The main opposition Labour party said the failings of the immigration system has been caused by the Conservative government's "lack of compassion and competence."
Today's plans will do next to nothing to address criminal gangs and abandons people in danger.
Nick Thomas-Symonds, Labour's shadow home secretary, said the new plans "will do next to nothing to address criminal gangs and abandons people in danger."