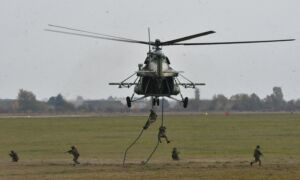 The Ukrainian government announced it will return ownership of an aircraft engine manufacturer from Chinese investors last week, ruling out the possibility of it falling into the power of the Chinese Communist Party (CCP).
Motor Sich, one of the top jet engine makers worldwide, is a Ukrainian privately-owned company based in Zaporizhia, although being majority-owned by Chinese companies.
"А decision has been made according to which the Motor Sich enterprise will be returned to the Ukrainian people, will be returned to the ownership of the Ukrainian state in a legal, constitutional way," Secretary of the National Security and Defense Council of Ukraine Oleksiy Danilov said on March 11.
"Ukraine, being in a state of war, cannot afford to hand over the enterprise, on which the Ukrainian defense capability depends, into the wrong hands," Danilov explained, according to the Kyiv Post, an English-language newspaper in Ukraine.
The decision of the Ukrainian government will likely disappoint Beijing Skyrizon Aviation, the Chinese company that has put a long-term effort into applying to the Anti-Monopoly Committee of Ukraine since 2017, seeking to acquire control over the company, which has not yet been approved.
Decoupling in a New Cold War
The return of Motor Sich is "a technology decoupling war in the context of the new Cold War between the United States and China," said Tang Jingyuan, a U.S.-based China affairs commentator.
"Ukraine, due to its relationship with Russia, relies heavily on the North Atlantic Treaty Organization and the United States for support in diplomacy, military, etc., to resist Russian aggression at the forefront," Tang said.
On the other hand, China has become Ukraine's top trading partner in recent years.
According to a 2020 report (pdf) published by the State Statistics Service of Ukraine, from January to November last year, China accounted for 15.3 for imports of goods and 14.3 percent of Ukraine's exports. The latter saw double-digit growth by 98.6 percent from 7.2 percent in 2019, including agricultural and food industry products.
Ukraine was torn between its chief foreign military backer and Chinese buyers as tensions between China and the United States were reaching a higher level.
On Jan. 14, The U.S. Department of Commerce blacklisted Beijing Skyrizon Aviation, as a manufacturing entity with significant ties to the CCP and its army.
"Skyrizon's predatory investments and technology acquisitions in Ukraine represent an unacceptable risk of diversion to military end use in the PRC [People's Republic of China]," the U.S. Embassy in Ukraine said in a statement.
Frank Tian Xie, John M. Olin Palmetto Chair Professor in Business at the University of South Carolina Aiken, warned of the potential consequences. "It [Skyrizon] could even take the entire Ukrainian company back to China with its people, factories, and technology," he said.
On Jan. 29, Ukrainian President Volodymyr Zelenskiy imposed sanctions on Beijing Skyrizon Aviation and three other Chinese companies actively seeking to control the aerospace company, by freezing assets and restrictions on trade, entry, capital outflows, and securities transactions.
The return of the jet engine manufacturer, which may bring up a billion-dollar lawsuit, shows that Ukraine "stands with the U.S. even at considerable cost," said Anders Aslund from the Atlantic Council, a think tank in the field of international affairs, The Wall Street Journal reported on March 16.
"This was an excellent step that the U.S. should greatly appreciate," Aslund said.
Skyrizon's Parent Company Known as 'the Second Huawei'
Motor Sich produces about thirty different types of engines, which power Mi- and Ka-series military helicopters, as well as Antonov An-124 Ruslan and An-225 (Mriya) freighters.
Seven years ago, while China was looking for opportunities to boost its military capabilities, the Russian incursion into Ukraine had caused an operational crisis for the aerospace engine manufacturer.
After Kyiv imposed sanctions on Moscow, nearly half of Motor Sich's engine output, which was supplying the Russian military, was cut off.
China then became the biggest buyer of Ukrainian arms, at more than $100 million annually, purchasing engines for trainer planes, helicopters, and army tanks, as well as gas turbines for naval vessels, according to the Kyiv Post.
Beijing Skyrizon Aviation, the largest stockholder for Motor Sich, is a subsidiary of Beijing Xinwei Technology Group, current affairs commentator Qin Peng said.
Xinwei, known as "the second Huawei," is a company involved in defense, military, and public security. The group's executives indicate a military background, he mentioned.
"Zhang Jixiang, for example, the vice president of Xinwei Group since 2014, was the chief of staff of the Communications Department of the Beijing Military Region, one of seven military regions for China's People's Liberation Army.
"Outsiders take it [Skyrizon] as an agency of the CCP's military," Qin said.
Skyrizon holds around 75 percent of Motor Sich's shares, according to a government source cited by Interfax Ukraine.
The shares were frozen in 2017 pending an investigation by Ukraine's security service
In December 2020, Chinese investors claimed a total of $3.5 billion compensation from Ukraine.
China's Ministry of Foreign Affairs urged Ukraine on March 12 to "safeguard the legitimate rights and interests of Chinese companies and investors."
Secretary Danilo made a response on the same day that, "We will only recognize the money that has officially entered the bank accounts that are located in Ukraine," the Kyiv Post cited.
Chinese Interest in Crimea
Days after Mr. Danilov announced Motor Sich ownership would be returned to Ukraine, a delegation of Chinese businessmen visited Crimea.
Crimea, the strategically valuable Black Sea Ukrainian peninsula, was invaded and annexed by Russia in 2014.
On March 14, the Chinese delegation met with officials of the Russian-backed government, which raised questions by Ukrainian Parliament Member Vadim Rabinovich over Beijing's change in its strategy toward Crimea.
"China has long retained a neutral position on the Crimea," Rabinovich posted on Facebook. He said the Chinese businessmen had agreed to establish relations with local enterprises, promote tourism in Crimea, and invest in the resort business.
Deputy Foreign Minister of Ukraine Yevhen Enin commented on March 16 that the recent visit "rudely violate[s] the current legislation of our state."
China Foreign Ministry spokesperson Zhao Lijian commented on the matter at a regular news briefing this week. "Such commercial activities should not be politicized," Zhao said.
Ukrainian President Volodymyr Zelensky intends to make a major Asian tour across countries when the pandemic subsides, including China, South Korea, Indonesia, etc. Yet the destination list has not been finalized.