DNIPRO, Ukraine—The death toll from the weekend's Russian missile attack on apartments in the southeastern Ukrainian city of Dnipro rose to 40, officials said on Monday.
About 1,700 people live in the skyscraper, and search and rescue teams have worked tirelessly since the missile strike to find victims and survivors among the wreckage. Local officials said 39 people were rescued and at least 75 were injured.
According to residents, there were no military installations in the apartment tower.
Asked about Monday's air strikes, Kremlin spokesman Dmitry Peskov suggested that Russian forces were not targeting residential buildings and that the Dnipro building was hit as a result of Ukrainian air defense actions.
The attack on the building came amid a wider barrage of Russian cruise missiles across Ukraine. The Ukrainian military said on Sunday it had no means of intercepting a Russian missile that hit a home in Dnipro.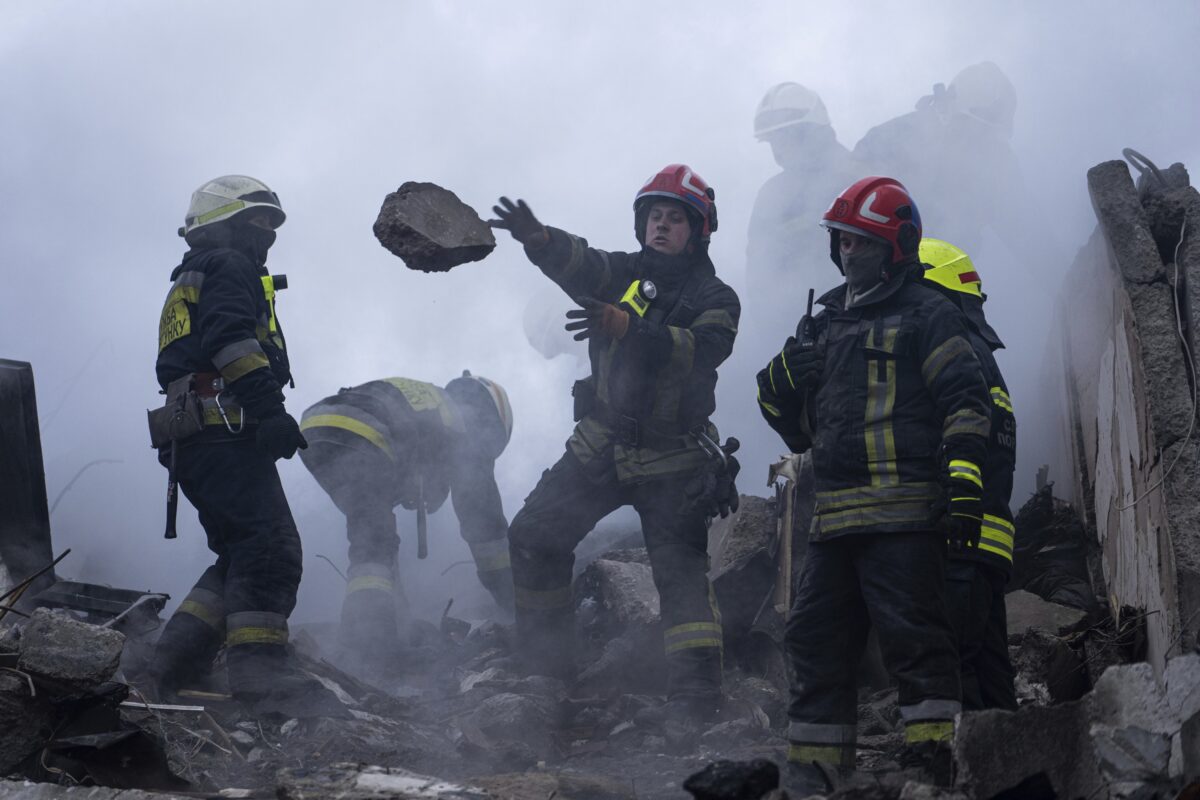 Heavy fighting continued on Monday in the Donetsk region of eastern Ukraine.
Donetsk and neighboring Luhansk oblast make up Donbass, a vast industrial region that borders Russia, and which Russian President Vladimir Putin has identified as a focus of the war from the outset. The separatists have been fighting Kyiv's army since 2014.
Russian and Belarusian air forces began joint exercises on Monday in Belarus, which borders Ukraine and served as a stepping stone for Russia's February 24 invasion of Ukraine. The Belarusian Defense Ministry said the training will continue until February 1. Russia has sent fighter jets to Belarus for exercises.
NATO allies have tried in recent days to reassure Ukraine to keep its course. Britain has promised to deploy tanks, and a new extended combat training exercise for Ukrainian forces by US forces began in Germany on Sunday.
The Polish Chancellor has urged the German government to supply Kyiv with a wide range of weapons and has expressed hope that Berlin will soon approve the transfer of tanks.
Other developments on Monday:
— Russian troops have shelled the city and Kherson region, killing three people and wounding 14 in the past 24 hours, Yaroslav Yanushevich, the regional governor, said. In the city of Kherson, artillery fire damaged a hospital, a child disability center, a shipyard, critical infrastructure, and apartment buildings.
— Russian forces attacked the city of Zaporizhia, damaging industrial infrastructure and injuring five people, two of whom were children, said Deputy Head of the Ukrainian President's Office Kirilo Tymoshenko.
Russian air defenses shot down 10 drones over the Black Sea near the port of Sevastopol in annexed Crimea on Monday, Mikhail Razvodjaev, head of Russia-installed Sevastopol, reported.