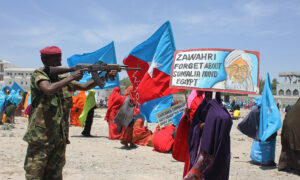 According to a report circulated Monday, UN member states say the terrorist group Al-Qaeda has a new leader.
The report says Osama bin Laden's former security chief, Saif al-Adl, is already leading the terrorist group.
The report, written by the UN Security Council, said there had been no announcements about a replacement by al-Qaeda after former al-Qaeda chief Ayman al-Zawari was killed in a US drone strike in Kabul, Afghanistan, last August. Stated.
"However, in discussions in November and December, many UN Member States expressed the view that Sayf al-'Adl was acting as the de facto and undisputed leader of the group," the report said. says.
The report suggests that al-Adl has a "continued presence" in Iran.
Saifar Adol has been blacklisted under UN sanctions since January 2001 as Egyptian-born Muhammad Salahuddin Abd El Halim Zidane, the commission said. He is on the UN list as having succeeded al-Qaeda's military commander after the death of one of bin Laden's closest aides, Muhammad Atef, in a US attack in November 2001.
In addition to being bin Laden's chief of security, Saif al-Adl taught terrorists how to use explosives and is said to have trained some of the hijackers involved in the September 11, 2001 attacks in the United States. says the United Nations. In 1993 in Mogadishu, Somalia, he killed 18 US soldiers.
Sayf al-'Adl is I wanted There is a $10 million reward for information leading to his arrest by US authorities in connection with the August 1998 bombings of the US embassies in Dar es Salaam, Tanzania and Nairobi, Kenya.
Threats from al-Qaeda, the ISIS terrorist group, and their affiliates "remain high in conflict areas and neighboring countries," according to the report, with Africa "emerging as the continent most affected by terrorism" in recent years. quickly and extensively. "
The panel said ISIS leadership was also in question following the group's Nov. 30 announcement that Abu al-Hassan al-Hashimi al-Quraishi had been killed in fighting the previous month.2022 He is the second leader of the group to be murdered in 2008.
"The new leader has been announced as Abu al-Hussein al-Husayni al-Qurashi, but his identity is still unknown," the expert said.
Member States noted that ISIS' pledge of allegiance to Abu al-Hussein was "extensive, without specific knowledge of his identity."
The report notes that the convergence of armed conflicts, terrorist attacks and transnational organized crime should be considered in counter-terrorism efforts against Al-Qaeda.
Al-Qaeda cash reserves held in Iraq and Syria are estimated to be between $25 million and $50 million.
It also points out that al Qaeda has obtained weapons in the Middle East and Africa, and that transnational criminal networks have also provided al Qaeda with weapons.
Al Qaeda also used unmanned drones for "precise" surveillance and attacks. Mozambique reported shooting down two al Qaeda surveillance drones.
The report also says al Qaeda uses the internet for propaganda and recruitment of new fighters.
The Associated Press contributed to this report.