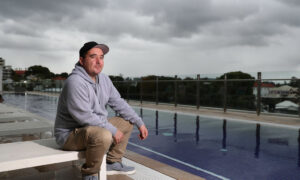 The Australian gallery deleted three works of art critical of the Chinese Communist Party (CCP) after complaining that a group of Chinese students were racist.
The Australian National University (ANU) Ambush Gallery hosts the "Don't Hit the Emissary's Head" exhibition by artist Luke Cornish, featuring 54 commentary on "injustice and protest" around the world.
Some depict the indigenous Australian injustice, while others depict the Black Lives Matter movement in the United States. However, works related to China received what Cornish described as a coordinated attack on social media.
"I was just destroyed on Instagram and social media. I think the gallery was also destroyed," Cornish said. Said ABC. "It was a bully's idea, so the gallery called for the artwork to be removed."
One of the deleted artwork Indicated Image of 10 RMB (RMB) banknotes dressed as Batman by former Communist dictator Mao Zedong. The other shows Winnie the Pooh strangling Tigger, and the last one shows Mao Zedong's face covered with facial recognition software markers.
Cornish apologized that Batman's artwork, a satirical work on the theory of the origin of the CCP virus, could be considered discriminatory.
However, he questioned the removal of the other two. These were illustrations depicting the Uighur massacre and the Social Credit system.
"The overall intention of the exhibition is to start a conversation, which is what is happening, but I do not apologize for calling for a genocide," Cornish said.
The gallery apologized "for being injured in viewing the artwork that was triggered" after being notified of student complaints by ANU's International Student Department (ISD).
"As a social enterprise, we endeavor to support all communities and present art that deeply apologizes for any crimes committed by members of the community," said Gallery. I have written By email to ANUISD.
"The artist's purpose was not to provide a destructive story, but to evoke the racism experienced by the Chinese community and the absurdity of racist stories about the origin of the virus," they say. I did.
The ISD also mentioned that due to its "harmful nature", it asked the gallery to remove Batman's artwork. However, they did not request the other two deleted.
Gallery spokesman Said The South China Morning Post that the gallery deleted the other two works without considering how it would be perceived. They also denied the intention of censorship, saying they also showed several other works in support of Uighurs and Hong Kong rebel protests.
In recent years, there has been growing concern about Chinese students imposing Beijing censorship standards on Australian educational institutions.
The University of Sydney was recently accused of self-censorship when a student-run newspaper deleted an article about the relationship between the scholar and the Chinese Communist Party.
Last year, student Drew Pavlou was also suspended by the University of Queensland after participating in a movement against democratization in Hong Kong.