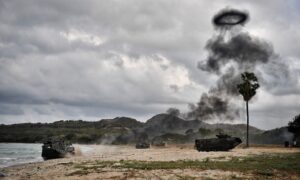 BANGKOK—A U.S. Army officer serving temporarily in Thailand to participate in a large multinational military exercise has died, U.S. and Thai officials said Wednesday. There was no suspicion of wrongdoing, they said.
Major Andrew Cotter was participating in Cobra Gold, a training and coordination exercise with the United States and host Thailand, involving five major Asian allies and an additional 23 countries. More than 7,000 military personnel participate.
Cotter served as the operations officer for the Army's 1st Corps' 17th Field Artillery Thunderbolt Brigade, said a statement issued from Joint Base Lewis McCord, Washington, where the unit is normally stationed. He was found unconscious in the city of Lopburi in central Thailand, where exercises were held, and was pronounced dead on Tuesday.
Police Colonel Laksak Mekcinda, superintendent of Lopburi Police Station, said Kotter's body was found in the bathroom around 2 a.m. on Tuesday.
"He fainted in the bathroom and it was locked. My soldier friends were looking for him but they couldn't find him, so they kicked down the door and found him." "He probably had a medical condition," he said.
Cotter's body was transferred to Bangkok's Police General Hospital for an autopsy, and U.S. Army officials requested permission to conduct an autopsy themselves, Laksak said.
Kaweewit Kaedejinda