[ad_1]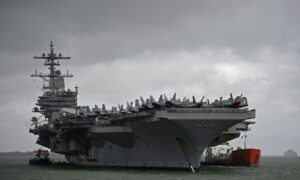 WASHINGTON—The United States has decided to extend the deployment of the George HW Bush aircraft carrier strike group to give policymakers options after last week's deadly strike in Syria by Iran-backed forces, US said. military officials said on Friday.
The decision likely means that Bush's strike group and its more than 5,000 U.S. troops, currently in the European military's area of ​​operations, will not return to their U.S. home ports as planned.
U.S. Central Command (CENTCOM) spokesperson Col. Joe Buccino confirmed the extension of the carrier group first reported by Reuters.
"The expansion of the George HW Bush Carrier Strike Group, including the USS Leyte Gulf, the USS Delbert D. Black, and the USNS Arctic, allows for options to potentially enhance CENTCOM's ability to respond to a variety of central contingencies. It will be," Buccino said in a statement.
Buccino also noted the planned and rapid deployment of a squadron of A-10 attack aircraft to the region.
News of the deployment comes after six U.S. servicemen were diagnosed with traumatic brain injuries, a day after the Pentagon doubled the number of U.S. servicemen injured in last week's attacks in Syria to 12. rice field.
The attack also killed an American contractor and wounded another.
President Joe Biden warned Iran last week that the United States would act strongly to protect Americans. The Pentagon said eight militants were killed during U.S. retaliatory airstrikes against two Iranian-related installations in Syria during retaliatory attacks sparked by the first March 23 attack on a U.S. military base near the city of Hasakah in Syria. is presumed dead.
The White House said on Monday that it would not trigger a US withdrawal from the nearly eight-year US deployment to Syria, where US forces and local Kurdish-led partners are fighting remnants of the ISIS terrorist group.
Nonetheless, the United States has formally stated that it will prioritize Russia, Ukraine, and the Asia-Pacific region over the Middle East in its national security policy.
This resulted in an overall reduction in U.S. military personnel and assets in the Middle East.
[ad_2]