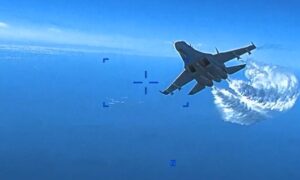 Video footage from an American drone shows a Russian jet approaching over the Black Sea.
An Su-27 fighter jet ejects fuel while flying toward an MQ-9 US Air Force drone on March 14, in footage released by the US military on Thursday.
The clip also shows the jet colliding with the drone, damaging its propeller.
American officials said the impact forced American personnel to lower the drone, resulting in a "complete loss."
The clips were spliced ​​together in declassified video, according to the U.S. military. Officials said it was edited for length. Footage of the events that occurred before and after the incident has not been released.
U.S. officials have denounced Russia's actions as dangerous.
"This dangerous episode is part of a pattern of aggressive, dangerous and unsafe behavior by Russian pilots in international airspace," US Defense Secretary Lloyd Austin said at a press conference this week.
According to the Pentagon, Austin met with Russian Defense Minister Sergey Shoigu after the incident and "emphasized that the United States will continue to fly and operate as long as international law allows."
Shoigu said US drone flights near the coast of Crimea were "provocative in nature" and could lead to "escalation … the Black Sea region," according to a statement by the Russian Defense Ministry. told the party.
He said Russia was "not interested" in the escalation of the situation but would "do it accordingly in the future", adding that both countries needed to "act with the utmost responsibility".
Russia said the episode showed Washington's direct participation in the Ukraine war.
In the first part of the video, the drone's propellers were not damaged. After the Su-27 approaches the drone for her second time, the drone's camera feeds him down. When it returned to normal, the propeller was damaged.
US Gen. Mark Milley, chairman of the Joint Chiefs of Staff, told reporters the interception and aggressive actions were intentional, but it is still unclear whether Russia intentionally shot down the drone. is not.
"As far as acts of war are concerned, I am not going there," he said. "Incidents do happen, but obviously we are not seeking armed conflict with Russia. , we will continue to exercise our rights in international airspace."
Reuters contributed to this report.