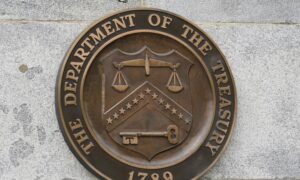 WASHINGTON—The Treasury Department on Friday announced sanctions against five current and former high-ranking Bulgarian officials and five groups accused of illicit personal gain, undermining the country's democratic institutions and depriving it of "Russian energy sources." perpetuated a corrosive dependence on
Undersecretary of the Treasury for Terrorism and Financial Intelligence Brian Nelson said the United States is "supporting NATO ally Bulgaria in its fight against the deep-seated corruption and Russian influence that undermine its democratic institutions." rice field.
"Corruption has robbed the Bulgarian people of hundreds of millions of dollars and hindered investment and economic growth in the country," he said.
Those sanctioned include Bulgarian MP Rumen Stoyanov Ovcharov. Vladislav Ivanov Golanov, former Bulgarian politician. Aleksandr Hristov Nikolov, former CEO and Deputy Director of Kozloduy Nuclear Power Plant, Bulgaria's only government-owned nuclear power plant, and Ivan Kirov Zhenov, former CEO of KNPP and former Bulgarian politician.
Additionally, the State Department imposed visa restrictions on Ovtcharov, Nikolov, and Golanov for their involvement in serious corruption. This will affect their next of kin and disqualify them from entering the United States.
The Biden administration relies on sanctions authority from a Donald Trump-era Executive Order to implement the Global Magnitsky Human Rights Accountability Act, which "targets perpetrators of serious human rights abuses and corruption around the world."
Fatima Hussein