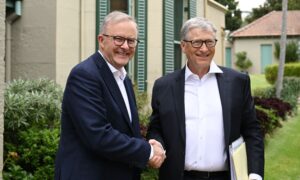 Tech billionaire Bill Gates says the US and Australia should adopt a more conciliatory approach to working with China on issues such as climate change.
Gates praised the economic growth of Asian countries.
"I see the rise of China as a big win for the world … the current attitude of the United States towards China is reciprocated, a kind of lose-lose mindset," he said in Sydney, Australia, Jan. 23. told the Loewy Institute in
"It can be very self-fulfilling in a very negative way," Gates said, noting that it could affect medical research and advances in climate change.
"We are all working together on this issue. We are human. Together we must innovate and dramatically change the modern industrial economy," obtained by AAP. In a comment, the founder of Microsoft said:
The Chinese Communist Party continues to face scrutiny over its reporting and transparency on COVID-19 infections and deaths, as Gates maintains hopes for China's role in moving humanity forward. The government claims the death toll from the recent outbreak has exceeded 60,000.
The figure has prompted even the nation's chief propagandist, Fu Shijin, to question the data.
"Official data counts only hospital deaths, so the actual number of COVID-19 deaths in China since early December is definitely over 60,000," he wrote on Twitter.
Asian political economy researcher Peter Chan points to another figure that suggests a very different picture.
"A report from UK-based analytics firm Airfinity estimated 3.7 million COVID-19 infections and 25,000 deaths from COVID-19 in a single day on 13 January, with more than 25,000 deaths after 7 December 2022 's total death toll has risen to 584,000," he wrote. Epoch Times.
"That data, experts fear, is just the tip of the iceberg. There are."
More cooperation between WHO and governments: Gates
Gates, meanwhile, praised Australian authorities for keeping infection rates low.
"Some of what stands out is that Australia and about seven other countries had early population-scale diagnostics and quarantine policies in place…that is, in the first year they had no vaccine. It means we were keeping infection levels low," he said.
He also called for closer cooperation between governments and the World Health Organization to deal with future pandemics.
"We need a comprehensive pandemic preparedness exercise every five years, both at the national and regional levels, and we need a global group to assess everyone.
"The idea of ​​a large-scale campaign to communicate with the public about infectious diseases [the WHO] Having some of those skill sets, their work was very informative. "
Gates also met with Australian Prime Minister Anthony Albanese on January 21 to discuss climate change, health and energy.
The Australian Prime Minister said: "I admire your work and contribution in raising the debate, not only on the financial side, but also on the need to address health issues."
"We have just experienced a pandemic, but we must be prepared for future health challenges."