Australia has reached a new milestone in its vaccination campaign, with 95% of the population starting the first dose of the COVID-19 vaccine.
Federal Health Minister Greg Hunt points out that as of February 5, 95% of Australians over the age of 12 have been vaccinated at least once, making the country the highest vaccination rate in the world. He said he was at the forefront of.
"Very importantly, during today, one million children between the ages of 5 and 11 who have been vaccinated will also pass," he said.
Hunt also said that vaccination rates for children in Australia remain one of the highest in the world.
The Australian Health Minister thanked those who obtained the vaccine and said the federal government was seeing the intensive care unit under less pressure.
Meanwhile, a crowd of thousands of people protesting the vaccination obligation in Canberra on February 5 was adjacent to the police.
A group of protesters marched from Greaves Park in Canberra's CBD to the Old Parliament House and then to the Federation Mall.
An ACT police spokesman said most of the protesters had left by mid-February 5, but a few remained.
ACT police and federal police have taken steps to disperse demonstrators who have accused them of illegally camping and parking their cars at Patrick White Lawns near the National Library.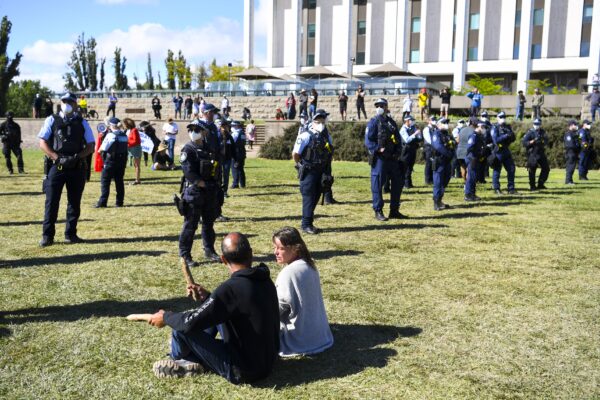 Meanwhile, the Northern Territory Government has lifted its obligation to use outdoor masks from 6 pm on February 5. Residents of the Northern Territory have decided to take into account the high personal responsibility of wearing a mask.
However, the Northern Territory Government still maintains a mandatory policy for indoor masks, encouraging people over the age of 12 to wear masks outdoors if they are unable to physically distance themselves from others. I am.