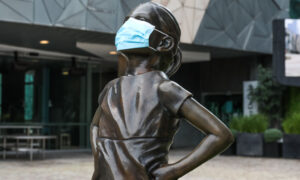 Victoria has grown from just 6% of new coronavirus cases quarantined during infection to 92% in just three days.
Health Minister Martin Foley revealed the numbers in a COVID update Thursday, praising Victorians who followed the state's fifth blockade rules.
There were 26 new locally acquired cases of coronavirus on Thursday, all of which are related to the current outbreak in NSW and currently total 133 cases.
Twenty-four of the 26 cases were quarantined throughout the infection period.
"Three days ago, about 6% of daily cases were quarantined for the entire duration of the infection. Yesterday it was 73%, but today it is 92%," Foley told reporters.
"We are doing what we can to limit the movement of people during this blockade with the help of all Victorians. The Victorian population is very supportive of these movement restrictions. By the fact, we are confident that we can still get it. Prior to this. "
Of the two cases infected in the community, the one related to Trinity Glamor had only a gas station in the Victoria area to return to Melbourne for isolation from East Gippsland.
The second, connected to the AAMI Park Cluster, visited Prahan Market and Market Lane Coffee last Saturday before being quarantined after being infected.
These two sites are currently considered Tier 1 exposure sites, and the Victorian Health Department states that 900 people have checked in to the venue. Anyone who visits the venue at the same time as the case must be tested and quarantined for 14 days.
Authorities also praised the incident of visiting the service station with as much caution as possible when they were informed that they were in close contact.
"They quickly returned home from Victoria as needed and were isolated. They provided one-stop petrol, had limited contact with staff, and disinfected the credit cards they were using. Handed over, "executive Ben Kawi told reporters.
"These are the types of COVID-safe behaviors that limit the spread of the virus and keep us all safe," he said.
The number on Thursday is the highest daily sum of the states of the current outbreak, following the 22 cases reported on Wednesday.
Four community cases and one international hotel quarantine case are in the hospital.
The number of exposed sites exceeds 380, while approximately 19,000 major close contacts are self-isolating throughout the state.
Approximately 43,674 tests were processed in the 24 hours to Thursday morning, and 14,230 Victorians were vaccinated at one of the state hubs.