[ad_1]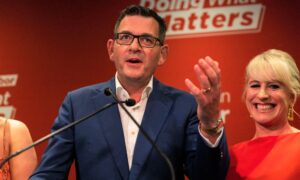 A new transgender flag will be hoisted alongside two LGBT+ pride flags in front of Melbourne's Treasury Place until the end of the month.
Victoria's Labor government made the decision after a women's rights rally over the weekend discussed transgender people participating in women's sport.
Premier Daniel Andrews tweeted: "We will always respect you and we will always have your back."
A new flag flutters outside the Victorian government offices.

Because we will always respect you.

And we will always have your back. pic.twitter.com/Mw6hOuq10b

— Dan Andrews (@DanielAndrewsMP) March 21, 2023
Health Secretary Mary Ann Thomas said the flag was raised in response to an "unprecedented attack on trans-Victorians".
"We're talking about a rally, a protest, to tell transgender people that they don't deserve to exist," Thomas told reporters on March 22.
"I stand against hate speech and stand with trans-Victorians. [and] "For the hateful behavior we saw over the weekend," she added.
"Even before the Nazis showed up, there were a lot of mistakes in what we saw over the weekend."
The health minister was referring to protesters performing Nazi salutes who gatecrashed a women's rights rally on March 18 against transgender people in women's sports and spaces.
Women's rights rally sidelined by LGBT+, neo-Nazi protests
The rally on the steps of the Victorian Houses of Parliament included women's rights advocate Kelly Jay Keane Minschl (also known as Posey Parker), Katherine Deeves, and Victorian Liberal MP Moira Deeming. attended.
They were confronted by hundreds of LGBT+ activists and socialist supporters who were blocked by police across the street.
Meanwhile, a small group of men dressed in black entered the buffer zone while giving a Nazi salute.
After the incident, MP Deeming took to social media to express his disappointment with Victoria Police for letting the masked men through.
"The police managed to stop the hordes[of transgender rights activists]but they could only pass in front of us with masked men[doing the horrific Nazi salute]," he said. she wrote on twitter.
The men's actions drew national media attention, but effectively set aside concerns about transgender entering women's space.
The Australian Jewish Association spoke out in support of the rights rally, while criticizing the police's actions.
read more
Victorian Member of Parliament Expelled for Attending Women's Rights Rally Against Transgender in Sport
Women's rights were sidelined after neo-Nazis hijacked event and grabbed national media attention
Transgenderism Takes Spotlight in Neighboring Country
A few days later, in Sydney, the issue of transgenderism once again came to a head, this time during the state election campaign.
Clashes between rival protest groups after LGBT+ activists blocked a church venue where One Nation New South Wales leader Mark Latham was scheduled to deliver an 'anti-trans' speech. broke out.
About 15 LGBT+ protesters, organized by Community Action for Rainbow Lights, waited outside St. Michael's Church Bellfield in Sydney's multicultural west region on the evening of 21 March.
Hundreds of individuals soon confronted the group, which allegedly included members of the Christian Lives Matter movement, resulting in a brawl and two arrests. rice field.
One Nation's Latham condemned the violence but said what the LGBT+ protesters did was wrong.
"They were trying to block [the entrance] We deny access to the front door to the church," Latham told 2GB Radio, saying police told his assistant to park in the back instead.
"I was greeted primarily by mothers and grandmothers who wanted to hear about schooling, parental rights, and all the issues I had raised during the campaign," he said.
Latham is a vocal critic of the state's education system, which exposes young students to issues such as gender fluidity and transgenderism.
read more
Clashes erupt outside Sydney church over anti-transgender speech
The latest incident follows revelations of a transgender player participating in the women's NBL1 South League.
"I don't know any members of that club. I don't know any other team in that league," former NBA star Andrew Bogut said on Instagram. "I'm not afraid to talk about it. I think it needs to be discussed."
"The player in question has already played the game. My understanding is it's a friendly against a team with an uncertain future. Apparently before the game they asked a few questions. [and] The game was still moving on — it was like, 'Sorry, deal with that. "


[ad_2]