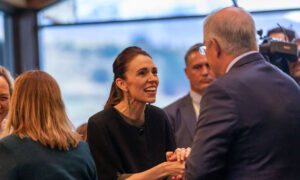 New Zealand (NZ) Prime Minister Jacinda Ardern said in a meeting with fellow leader Scott Morrison that he "wants to continue writing the COVID-19 rulebook" with Australia.
Australian and New Zealand leaders say they will write a new page in the COVID-19 rulebook when they meet for a formal meeting on Monday.
Morrison and Ardern are in Queenstown for the annual Australian and New Zealand Leaders Forum.
Morrison rushes in. He stays in Aotearoa (Maori, New Zealand) for less than 24 hours, and the actual talks take less than three hours.
The two begin the day by dedicating a wreath to the Arrowtown War Memorial and then work on policy agendas.
Both drop hints about what is being discussed.
China is an important issue.
New Zealand has suggested joining Australia in a World Trade Organization dispute with Beijing after the communist regime imposes tariffs on barley on Australia.
New Zealand's Trade Minister Damien O'Connor said, "We rely on a rules-based trading system to provide a safe and predictable global trading environment for all, and we will act to maintain it." Said.
The move is a sign of two ally across Tasman, both of which have strong (mutually beneficial in the case of Australia) trade with China.
This took place after Beijing launched an economic coercion campaign against Australia for over a year in response to Foreign Minister Maris Payne, who called for an investigation into the source of COVID-19 in Wuhan, China. I did.
"The partnership between Australia and New Zealand will be even more important in the future as we face an increasingly difficult geopolitical environment," Morrison said.
"These talks provide an important opportunity to continue our efforts to support the open, inclusive and resilient Indo-Pacific," he added.
Morrison mentions a biosecurity deal that may be announced on Monday.
The two leaders will discuss the deployment of the COVID-19 vaccine in the Pacific after 7.5 million doses to the developing region.
Prime Minister Jacinda Ardern said he was most eager to talk to business leaders on Sunday night about the next phase of the COVID-19 program.
"The road that New Zealand and Australia carved (between COVID-19) was and is still unique," Ardern said.
"But that means we don't have a rulebook.
"We look forward to the next step in creating the rulebook the next day.
"We are tackling the challenge of safely reopening ourselves to the world, but while retaining all the benefits we have gained so far, they love what I can do together. It's a conversation-with a rulebook to write it, "she said.
By Ben McKay. Epoch Times reporter Cayden Pearson contributed to this report.