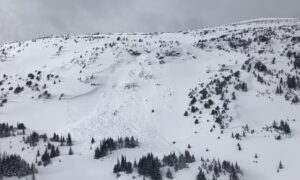 VANCOUVER—After two skiers died in an avalanche in central British Columbia's interior this month, the head of a volunteer search and rescue team made an emotional plea about the dangerous conditions of the season. was urged.
Rick White, chief of the Lake Williams Central Caribou Search and Rescue Team, said Thursday that a member of his team was one of those who died on February 11 on the Potato Peak slide, southwest of Lake Williams. Did.
Calling the member's death "devastating," Smith's statement highlights the danger of a "horrifying and unrelenting" avalanche across the state this season.
Nate Fockler, a ski guide in Revelstoke, British Columbia, said this year's snowfall has created real backcountry hazards, with freezing temperatures soaring and so-called "deep and persistent weak snow layers" forming. said to have been formed.
"The chances of it happening are low, but if you do, the consequences are very high," Fokler said. is."
Fokler said this year's snowfall was similar to 2003 in British Columbia, with two avalanches within two weeks near Revelstoke, claiming 14 lives, especially after an avalanche. It was a year.
Fochler says the risks inherent in the backcountry cannot be eliminated, only mitigated.
"Nature is bigger than us," he said. "Even guides with decades of experience still get themselves into trouble."
Fockler said he understands search and rescue teams warning people to stay out of the backcountry where the risk of avalanches is ever present, but for guides like him, it's his livelihood.
"I have to do my job, even if it's dangerous," he said. "In a perfect world, you wouldn't go skiing when it was dangerous, but that's not always reasonable.
In a statement released in late January, Avalanche Canada's Ryan Buhler said of upcoming weather conditions that may have motivated "people to push into terrain previously unattractive due to bad weather." I have outlined my concerns.
"The temptation may be strong, but we warn people not to push into untracked or unfamiliar terrain," says Buehler.
He says there's a reason they often use terms like "conservative" and "patient" in their predictions.
"We use these in the sense that people should stick to simple, safe terrain and not be tempted by boredom or ambition into larger terrain features. Spend the entire season with a simple goal. requires a lot of discipline, but this is the attitude the pros are adopting today."
Fokler said this year's snowfall, while "terrifying", isn't unruly, and with drastic changes in temperature predicted, he'll stick to safer, more familiar terrain than venture out.
"This is not the year to be really radical," he said. "Those mountains will still be there next year…Could skiing that line cost you your life? Probably not.
Darryl Greer