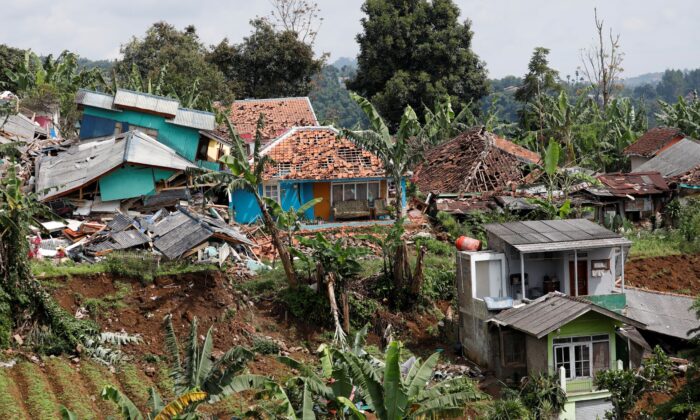 Houses damaged by the November 23, 2022 earthquake in Sukamrya, Cianjur, West Java, Indonesia. (Ajeng Dinar Ulfiana/Reuters)
JAKARTA – The death toll from the magnitude-5.6 earthquake that hit the Indonesian town of Cianjur on Monday has risen to 271, leaving 40 missing, the head of the disaster mitigation agency said on Wednesday.
A shallow 5.6-magnitude earthquake hit Indonesia's most populous province on Monday afternoon, causing major damage to the town of Cianjur, about 75 kilometers (45 miles) southeast of the capital Jakarta, and causing landslides in at least one village. buried in
Many of the victims were children who were in school when the quake struck, said Henri Alfiandi, director general of the National Search and Rescue Agency (Basarnas).
Strong quakes of magnitude 6 or 7 are relatively common in Indonesia, often offshore where fault lines run, but Monday's lower-magnitude quake struck land at relatively shallow depths. resulting in fatal consequences.
Straddling the so-called Ring of Fire, a highly seismically active zone where various plates of the Earth's crust meet, Indonesia has a devastating seismic history.
In 2004, a magnitude 9.1 earthquake struck off the northern Indonesian island of Sumatra, triggering a tsunami that struck 14 countries and killed 226,000 people.