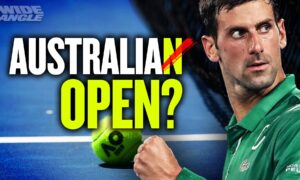 What happened to Australia? — The world asks with surprise. Australia's Foreign Minister has revealed the underlying reason why he canceled his tennis star's visa, as the dust from the shocking deportation of tennis's No. 1 Novak Djokovic has not yet settled down. ..
Ontario is one of the latest global cities to significantly revise COVID data. It follows many American states that have done the same. Why is the world message about COVID-19 suddenly changing?
In China, the Chinese Communist Party's "Zero Corona" policy is in full swing and is expected to pave the way for the smooth hosting of the 2022 Winter Olympics. On the other hand, the impact of its strict "safety" measures is becoming more and more pronounced around the world.
— —
follow EpochTV Social media:
Facebook: https://www.facebook.com/EpochTVus
twitter: https://twitter.com/EpochTVus
Rumble: https://rumble.com/c/EpochTV
Gettr: Gettr: https://gettr.com/user/epochtv
Gab: https://gab.com/EpochTV
telegram: https://t.me/EpochTV
parlor: https://parler.com/#/user/EpochTV