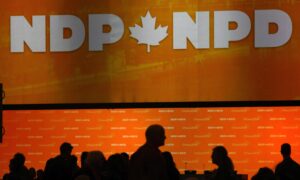 Commentary
The party convention is a very strange event. Your special ID is a desperate resolution controversy, a noisy speech, anxious causes, and a lot of bad coffee, adrenaline, and pamphlets mysterious to the dusk world that the rest of the country generally sees. Open a portal … uh … hey, there is a tournament, are you interested in verse 3? Still, they reveal strangely.
Canada had three major tournaments that were even more bizarre than usual because they were virtual. It's no longer strange to come to think of it. And, in reality, it may have made the convention more real-life than usual. I haven't said much.
Due to my sins and eccentricities, I've been to quite a few of these conventions, which I find very exciting as the participants are really looking forward to them. And I confess that I found their unrealistic mysterious air attractive to grotesque.
Several times a day, you step into a dim, quiet, desperate cave from a noisy sunlit street full of normal human activity and traffic noise. And people say: The chairman, a Missouri delegation, voted for the next US President, Yur B. Fergodin. As Ken Dryden records the shutout of an interesting idea.
In these settings, the people I see wonder what they look like. And the answer is that you're a passionate, policy-oriented patriot who deserves to rule this great country, not an angry, obsessive, or overrunning weirdo. This is a bit of a problem as they practice a lot of politics. And not-so-strange performances suggest the basic abilities they terribly need when it comes to governing.
Instead, last month the Tories held a convention that, despite being conservative, proudly declared their leaders liberal. And since the party members said, "We are not," everyone wondered if such a thing should really have been quietly resolved in advance. Then their leader went to a meeting last weekend, where he proudly declared himself conservative despite being liberal, and no one believed him.
From April 9th ​​to 11th on the same weekend, the NDP held a convention that they were bitter, angry and anti-Israeli. They think it will rush people to help them, but their greatest hope is that no one notices. Much of the discussion time includes points of order and bits spent on technical glitches. Hear Jagmeet Sing praise "ultra-rich", "pandemic-beneficial, ultra-rich", and Orwell's horrifying hack-like "luxury yacht" Was probably merciful. language. "But when it comes to capacity issues, the confusion was a bit disappointing.
The liberals also held a tournament from April 8th to 10th. I think this is like roughing someone in a sailing race for those who care. For the rest of us, did the Liberal Party want us to think they were?
Apparently, people who have a bag of cash they would give us if we voted for them. Thus, Justin Trudeau unleashed Erin O'Toole's withered criticism as a completely unprinciple right-wing maniac who was not interested in "the actual solution to the actual problem." It's like getting a subsidy in return for a vote.
This has always been a liberal self-image. The NDP praises it from the far left, the Tories are ruthless right-wingers, but the liberals deliver bacon.
Do you want a job? We got a job. Corporate subsidy? check. Oh, do you want a check? Here are some tax credits. But in the old days, the idea was that while their minds were in the right place, so were their heads, so they wouldn't choke the economy or empty the treasury. Today we were not so confident and the tournament might have been devoted to reassuring us. Instead, they talk about the entire floating bakery, from national pharmacies to basic income, the end of racism, and the Green New Deal in Canada, chasing the Tories as big malicious, and the NDP makes them big bad. I chased it as meaningful. The public went elsewhere.
There is a good reason. One of the things you don't hear about at these competitions is that it's difficult to govern. Or it means that your opponent has good intentions but does not understand that it is difficult to govern. Or a detailed explanation of why a particular problem wasn't resolved long ago because it required a difficult and difficult choice, and even our policy is preferable to a rival's policy, but a trade-off rather than Nirvana Brings.
Unfortunately, one or more of these groups will try to rule. Therefore, it is worth paying attention to what they are trying to say and how. There must be a better way if you just notice.
John Robson is a documentary filmmaker, National Post columnist, Dorchester Review contributor editor, and Executive Director of Climate Discussion Nexus. His latest documentary is "Environment: True Story".
The views expressed in this article are those of the author and do not necessarily reflect the views of The Epoch Times.