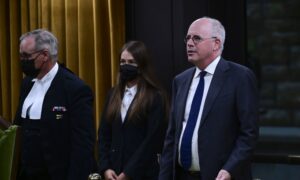 Commentary
In the summer of 2010, Richard Faden, then Director of Security Intelligence Services in Canada, warned in a CBC interview of a sophisticated espionage campaign in Canada by a foreign government. He did not identify a particular country, but it was clear that he was referring to China.
Faden also talked about what has recently been called "elite capture." This is an effort by the Chinese Communist Party to favor and promote its interests in those in power and influence.
Transparency in Canada's dealings with the Chinese Communist Party becomes even more important as China becomes more powerful and brave.
The dismissal of two Chinese scientists from Winnipeg's National Institute of Microbiology and the controversy over the transfer of the deadly virus from the facility to Wuhan, China are good examples.
The Liberal government has sought to avoid exposing unedited documents to Congress related to the dismissal of two scientists. Last week, the government decided to take him to court after Speaker of the House Anthony Rota upheld the Speaker's order to publish the document to the government. This happened after President Ian Stewart of the Public Health Agency of Canada refused to publish the document to a special committee on relations between Canada and China for several weeks.
Rota's move is considered unprecedented, how this action reflects the diminishing role of Congress in democracy, and how courts are becoming a major venue for political disputes. Many commentaries are right and crazy about it. But the commentary should also focus on its relationship with Communist China and how the footprints that allowed the administration to develop in our society had a corrupt effect.
The government argues that the publication of the document may reveal information that could undermine Canada's national security. Indeed, due to the nature of national security, some need to remain obscured. But in this case, according to the Constitution, Congress should get what it demands. After all, this is the result of the Liberal Party constantly curbing serious debate about China.
If you look deeper, aside from government officials who are usually making great efforts to avoid offending Beijing, there is potential for many to become apparent about their ties to China. I feel fear and continued improper behavior informed by my commitment to these. Connect, as Fadden and other security professionals have consistently warned over the years.
As Recent national post Leaders at the Winnipeg Institute have reportedly been involved in cooperation with China for a long time, with the Chinese Communist Party behind several incidents of economic espionage, cyberattacks and intellectual property theft. Even after it proved to be, it continues to work with Beijing. Scholars, especially university scholars who maintain close partnerships with Chinese institutions, have made such partnerships, claiming that scientific cooperation with foreign powers has nothing to do with national security concerns. I'm in a hurry to defend.
"I think it's short-sighted to severely limit research partnerships," a scholar said in an article in the National Post. "After all, science is a global company, and we don't know when and where breakthroughs and big discoveries will occur."
The question of what a ruthless and unreliable government like CCP uses such major discoveries for is clearly irrelevant.
Not surprisingly, as more information about Winnipeg's lab was revealed, the wise call for wise termination of cooperation with Beijing was amplified. Correspondingly, it is not surprising that there were many articles published by major publications condemning calls such as alien exclusion, reckless nationalism, or the product of the "Cold War spirit."
Hostile sentiment towards those who are actively involved with China argues that it is comparable to the McCarthyist era of the Cold War and is the cause of anti-Asia racism. Recent editorial Globe and Mail by prominent senators and scholars. In addition, the "exaggeration" of the reach of Chinese organizations, such as the United Front, has led to racial profiling and stigma for organizations with a Chinese background. They write that "framing China as an enemy and hinting at elite capture" would make relations with Beijing more difficult and undermine "Canadian values" and inclusiveness.
Similarly article In a conversation in response to the Alberta government's ban on university partnerships with China, three Canadian university professors said, "Restricting research relations with China is raising tensions between Canada and China. , Increase anti-Chinese hystery. " Continuing in line with these policies, they condemned the "Cold War spirit" informing them of such policies, arguing that they would inevitably have racist consequences for Chinese scholars and students, and "family. I would have to engage in self-censorship when talking to him, "said a colleague who returned to China. "
These arguments have also been expressed by the Prime Minister and other politicians in response to China's criticism. And it's pretty confusing because they're basically repeating the Beijing promotional issue. They argue unreasonable hysteria among critics without providing solid evidence other than CCP-like issues as to why fear of China is "exaggerated" or "hysteria." It's as if you were drawing from the same script.
In reality, there has long been evidence that the ever-increasing institutional cooperation and ties with the Beijing administration are time bombs. And if it is allowed to continue, you should now be familiar with where it will lead. The Winnipeg Institute's blunder and the problems it reveals at our institution may be just the tip of the iceberg.
Shane Miller is a researcher at Probe International.
The views expressed in this article are those of the author and do not necessarily reflect the views of The Epoch Times.