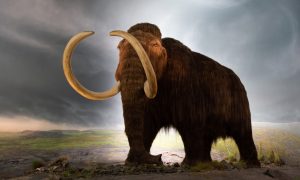 Victorian police have arrested three people after a mammoth 'Woolly' at the Royal BC Museum was defaced with bright pink paint by protesters who wanted to raise awareness about climate change.
According to a Victoria Police statement, the defacement of the museum's centerpiece occurred just before 11:15 am PT on March 1st. Police said other visitors, including children and family members, were present at the time of the incident and are still investigating.
activist group On2 Ottawa took credit for the incident in a video Posted Twitter on March 1st
"Laura threw paint at the Royal BC Museum Woolly Mammoth to announce On2Ottawa, a mobilization of Canadians to go to Ottawa to lobby the government to form a civil council and begin action on the climate crisis. It's a new campaign for," the Twitter post said.
Accompanying video shows a woman sitting in front of a three-meter-tall reproduction of a wooly mammoth, her fiberglass tusks covered in bright pink paint, her right hand covered in paint, and spots of paint. A teal tin can is shown sitting beside her in the background. to the can and her shoes.
"If the government doesn't enact a citizen council to tackle the climate and ecological crisis in the next year or two, we're going to go to Ottawa and demand one."
On2Ottawa said the stunt used washable paint and was intended to protest the federal government's "criminal" inaction on the "climate emergency."
The exhibit was closed for approximately 90 minutes while staff restored the artwork.
"During the launch of On2Ottawa today, three people were arrested by Victoria Police, Laura and two people who were helping her. They have since been released." Said Twitter post by On2Ottawa.
Defacement of works of art
In another incident last November, two women claiming to be climate activists allegedly vandalized Emily Carr's painting "Stumps and Sky" at the Vancouver Art Gallery on November 12. twitter Said it was to demand the termination of the coastal GasLink pipeline in northern BC
A video was recorded of two women from a group called Stop Fracking Around throwing. Maple syrup It's like gluing your hand to a gallery wall on a glazed 1934 painting.
Jointly published by the International Museum Community (ICOM) statement Signed by nearly 100 museum directors on November 9, 2022, it states: The activists in charge of them severely underestimate the fragility of these irreplaceable objects that must be preserved as part of the world's cultural heritage. "
The signatories include the directors of the Metropolitan Museum of Art and the Guggenheim Museum in New York, the Louvre and Orsay Museums in Paris, the Prado Museum in Madrid, the British Museum and National Gallery in London, and the Berlin Gallery in Berlin.
Canadian Press contributed to this report.