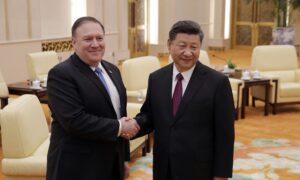 Former US Secretary of State Mike Pompeo has warned that Chinese President Xi Jinping intends to rule the world and poses a greater threat than Russian President Vladimir Putin.
"He wants to own you. Yes," Pompeo said in an interview with Sky News on Feb. 2.
He called Xi's intentions "evil intentions," adding that "we owe it to the next generation to oppose it."
Asked by anchor Beth Rigby if he thought Xi Jinping was more dangerous than his close ally Putin, Pompeo said, "Of course. [It's] far cry. "
A former senior U.S. official recalled when interacting with President Xi: [Xi] focused on his ambitious goals. "
Secretary of State Pompeo said, "President Xi believes he will rule the world. …He believes this is not a folderol."
"The world is economically dependent on Mr. Xi, and Mr. Xi has a population of 1.4 billion," Pompeo said, pointing out that Mr. Xi is well equipped to achieve that goal.
"He has an economy the size of the United States, and a highly capable space, military, and cyber program. He said.
Pompeo, meanwhile, said Putin believes in a greater Russia, but that "he has no illusions about his ability to rule the world."
"Vladimir Putin has a very capable nuclear program and an economy that depends on a single industry, and producing energy in America would make that industry less valuable to him. Let's go," he said.
"These are two fundamentally different risks to our way of life everywhere: Europe, the United States, Asia, the Middle East," Pompeo added.
Putin's ambition remains unchanged
But Pompeo believed that Russia's leader was a "bad guy."
He remembered looking into Putin's eyes.I thought [it was] Evil. Make no mistake, he's the bad guy. "
Pompeo believed Putin's ambitions "have not changed" since he moved to retake Crimea in 2014.
"We always think this war started on February 24th. It was exactly a year ago now. It actually started in 2014," he said.
"Four years later, Putin has not invaded Europe. he added.
Pompeo believed Putin was deterred by the seriousness of the Trump administration.
"We were jeopardizing his economy. We created the American military. We created a situation where NATO members put another $40 billion into NATO," he claimed. .
"I think there was just a fundamentally different understanding in Vladimir Putin's mind. And this deterrence depends on the perception of the enemy's risk," he added.
Pompeo believed Putin would feel a lot of risk if he took action against Ukraine "under our watch."
"When I was president, I think he thought there was no risk of doing that. [Joe] It was Biden," Pompeo said.
slow reaction
Pompeo disagreed that President Joe Biden was leading the Western response to the invasion of Ukraine and criticized how other countries handled the crisis.
"The West was slow, slow, and afraid of escalation, and it was a mistake," he said.
"So we should do our best to fix it today. We should give them what they need and put Ukraine and the West where Vladimir Putin sees the handwriting on the wall. This is how deterrence is restored," he added.
Pompeo laid out steps that could lead to a "negotiated diplomatic settlement of the war."
"It starts with America, and most importantly Europe, really providing the tools the Ukrainian people need to fight and defend their sovereignty," he said. .
Secretary of State Pompeo said the move "puts President Zelensky and the people of Ukraine in a position where President Putin negotiates out of weakness."
"It's the ultimate solution they have to sort their way out," he said.